By the end of the school year, teachers in the AVID Site Team will be able to…
Encourage students to engage in critical thinking
Encourage students to utilize Cornell note-taking and organization
Encourage students to participate in small group collaborative learning
Work with content area teachers to implement AVID skills across campus
Close the achievement gap by rewriting and implementing the AVID Site Plan
Encourage SLANT (Sitting in the front, Leaning forward, Asking questions, Nodding your head, Talking to your teachers)
Promote the use of academic language
AVID – Advancement Via Individual Determination
AVID Team Building Activity – Collaborative Cup Stacking
Team of students work to pick up one cup at a time with rubber band while each students holds on to one of four strings tied to rubber band. Click on Cup Stacking Photo Link.
AVID Team Building Activity – Straw Bridge
Team of four students work to hold their straws as a bridge to allow marble to roll down. Click on Straw Bridge Link.
AVID Individual Skill Building – Growth Mindset
Each student develops an open mind and growing understanding of developing their brain just like a muscle by completing challenging activities. In this Growth Mindset Activity students were instructed to draw a house, a car with two wheels and a pet on their plate. Click on link to view Growth Mindset Activity.
AVID Partner Team Building – Twizzlers String Knots
Students worked individually with eyes closed to tie Twizzlers Strings with prominent hand. Then on second attempt again with eyes closed to knot Twizzlers String with non-dominant hand. Finally with last Twizzlers String each partner helped another student tie final knot with eyes closed. All skills building and adding to Growth Mindset development. To view Twizzlers String Photos click on link.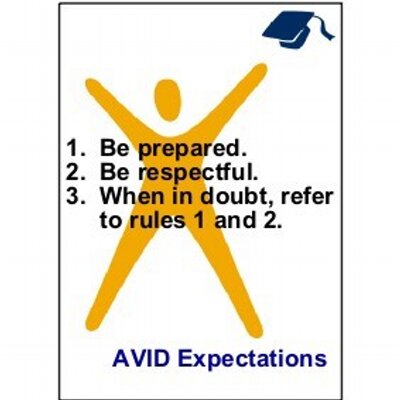 Additional Resources: